Bomba Shack

The Bomba Shack is a well-known Caribbean beach destination. The surfing crowd has been coming here from the very start.
Full moon parties happen every month at Bomba's. This is an adult atmosphere so maybe leave the kids out of this party. Not only is Bomba's famous for their full moon parties but also their mushroom tea (said to have hallucinogenic qualities).
The tea is only served during certain hours, with special glasses that you need to purchase. So just realize that the mushroom tea will set you back a few bucks. I've had the tea and must say that I don't know if I believe all the hype regarding its special powers.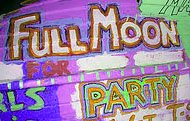 Bomba's Shack was built with driftwood, tires, surf boards, and anything else Bomba found on the beach. As my father would say, "This place has got character". It literally looks like it's about to fall apart at any minute. Surprisingly it's survived every tropical storm thrown at it. Don't let appearance get in your way of having a good time, I never do.
During the full moon parties there are people everywhere. It looks like half of the island decided to pack themselves in and around both of Bomba's buildings. Bomba's is the place to let your hair down, and howl at the moon!