BVI's Best Places to Scuba Dive
The quest for the best places to scuba dive in the BVI starts on the island of Tortola. That's where the majority of the diving outfits headquarter themselves. I have talked with the diving experts, so that I could bring you a complete overview.
There are tons of dive sites that each have their own interesting characteristics. Deciding on the single best site to scuba mainly depends on the weather (surf, visibility, etc). All of these dive sites have something unique to offer, so do yourself a favor and hire a dive company and go explore the depths of the Caribbean.
My favorite dive operator is Blue Water Divers. Their prices are very reasonable and the employees are exceptionally helpful. They are always ready to take you on a dive wherever you want to venture within the BVI. Blue Water Divers offers scuba diving lessons for those of you who always wanted to explore but hadn't quite got around to the training.
If you've gone sailing, but you would still like a guided tour, or need to rent the equipment, Keith Royle and his crew at Blue Water Divers will come meet you right out in the middle of the Caribbean! Now that's true service if I've ever heard of any. If you'd like to book something with them then just click here to skip ahead. You really can't ask for anything more in a dive outfit than you get with Blue Water Divers.
Keith and the gang can help you find that magical spot that you've been dreaming of. The place that you will tell all your friends about when you get home. It's an experience of a lifetime!.
I think that one of the best attributes of the BVI diving scene has to be the entertaining names of the dive sites. Some of the better ones include Brown Pants, Wall to Wall, and Bronco Billy's.
Why don't we get to the dive sites already! We'll start off with Carrot Shoal, which is a long thin stretch teeming with lobsters and angelfish. Make sure to check under some of the ledges, there is always something neat to see in the darkness. You'll find Carrot Shoal off the Southwest end of Peter Island.
Bronco Billy's is on the Northwestern shore of George Dog (The Dogs Islands). The allure of Bronco Billy's is the bright coral valleys along with a slew of multicolored sponges.
At Dry Rocks you can go deep, I mean super deep. You'll find all kinds of aquatic life, watch out for the goatfishes, grunts, and trunkfish.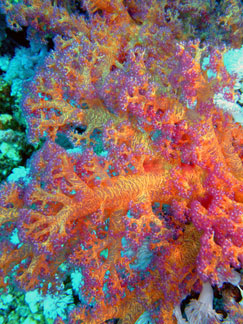 Off the coast of Norman Island lies The Indians. A group of funnel shaped rocks gives this site its name. Sea turtles and filefishes can often be found swimming here.
If you're into shipwrecks then there are several to choose from. The Wreck of the Inganess Bay can be found due South of Cooper Island. The 136 ft. vessel was sunk in 1996, it now lies in about 100 ft. of water broken in two pieces. The nice thing about the Inganess Bay is that you can easily navigate thoughout the different rooms of the ship.
Santa Monica Rock is a popular BVI diving option because it's such a photogenic site. Santa Monica Rock spirals up from a depth of about 100 ft., but can also be viewed just a few feet from the surface. Around the rock, divers will find horse-eye jacks, kingfish, and you can even find a squirrelfish if you look hard enough.
The seasoned diver might want to venture to Brown Pants. Due south of Norman Island this place is an untouched underwater splendor. Barracuda, angelfish, palmetto, and bull sharks are lurking throughout this site. The site gets its name from when sharks chased off some of the first divers here (It literally gave them brown pants). That's dirty!
If you'd like to see something out of the ordinary try Coral Gardens, its great for snorkeling too. South of Great Dog you'll find airplane wreckage from the only Atlantic Air BVI plane ever commissioned. The plane wrecked (but not too badly) just off the runway. Thankfully the pilot and passengers all got out safely. The plane was later featured crashing into the translucent Caribbean Sea in a British movie.
Ginger Steps is exactly what it sounds like. These are large terraced steps leading to the sea floor. Sea life includes manta rays, crab, damselfish, and shrimp. Ginger Steps can be found Southwest of Ginger Island.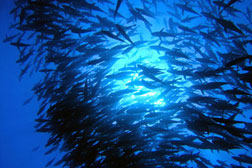 If you want to be overwhelmed by fish of all kinds, then visit Wall to Wall. Just about every type of fish named thus far can be seen here, you might even see an octopus. It's wall-to-wall fish all the time, thereby giving it the name. Check this place out right off the Southwest end of West Dog.
Alice in Wonderland is a favorite among divers. The name really does say it all - this place is an underwater wonderland of aquatic life. Sitting off of Ginger Island this site displays some unique coral formations with stingrays and an occasional reef shark.
The granddaddy of dives in the BVI has to be the RMS Rhone. If you only dive one site make sure that this is the one. The Rhone was a British Royal Mail Ship that sunk due to a hurricane in 1867 just Southwest of Salt Island.
The RMS Rhone is considered by many as one of the greatest ship wreck dive sites anywhere on the globe. The ship lays in two pieces, the shallow end submerged in about 20 ft. of water, with the bow under about 80 ft. of ocean. The dive will take two oxygen tanks for those of you that were wondering. This is due the fact that the shipwreck area is over 300 ft. long.
If your looking for the best places to scuba dive, especially in the Caribbean, the wreck of the RMS Rhone is second to none!
The Rhone is teaming with several different types of underwater life. This includes: eels, sponges, horse-eyed jacks, barracuda, yellowtailed snapper, and of course some pretty cool coral formations. You can explore all over the inside of the ship, including the boiler room, which is where the boat exploded, breaking the boat in two.
If your still interested in best places to scuba dive, I'd recommend you fill out the form for Blue Water Divers below. If you are just curious about a certain dive site, or an uncommon type of fish, Keith Royle would be more than happy to hear from you, and offer his insights. He'd also love to show you first hand, even if he does need to give you a scuba diving lesson first.