Brewers Bay

You can have this beach all to yourself!
Brewers Bay is located just northeast of Cane Garden Bay. The two beaches couldn't be more different. Cane Garden Bay is huge and full of people, while this beach is a much smaller speck of sand and has just a handful of people on it, if any at all.
This beach features some of the best snorkeling on the island. The reef is quite shallow with a gentle slope that seems to go on forever.
If it's not the best it in the conversation for the best places to snorkel on the island. There is always something new and interesting to look at. Like this curious lobster (pictured here).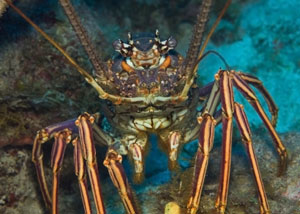 Nicole's Bar and Restaurant is located here and will not only fill up your belly, but also rent you some beach chairs if you didn't bring any. I never bring mine, I always have trouble getting them on and off the plane!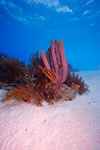 This is also the cheapest place to stay on the whole island. I'm not the camping type so I'd rather take the nice cushy bed at my hotel or villa.
The campground here offers very basic amenities with fantastic views. They offer both equipped (with tent, linens, cooking utensils), and unequipped sites. I really don't know of any campgrounds that are steps from the beach lined with a thicket of palm trees.